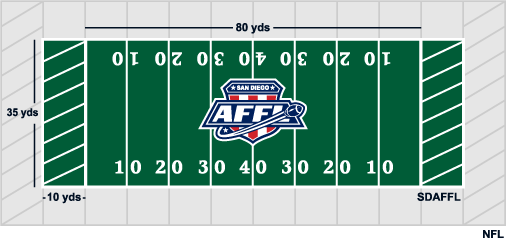 A SDAFFL regulation field is 35 yards wide and 80 yards long, with two 10-yard end zones; for a total of 100 yards in length.

In the event of teams having the same season record, league standings will be determined based on the following categories in order to break the tie:

- Record head-to-head within your individual conference

- League Record, taking into account all games played, including non-conference games

- Points Against, meaning the total points your team has allowed in a season

- Coin toss

---
PCT (season winning percentage): Percentage of games won out of games played.

PS (Points Scored): Total number of points scored in the season.

PSA (Points Scored Against): Total number of points allowed in the season.
PF (Conference record): Ranking within conference.

Official SDAFFL & NGFFL 2019-20 Rulebook
-
Updated 8/1/18